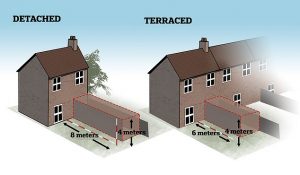 New planning permission rules
Thousands of homeowners have been given the green light to extend their properties without planning permission.
A change in the law will allow families in England to build six-metre single-storey rear extensions if they live in a terraced house and eight-metre ones if their home is detached.
More than 110,000 extensions have been completed since the measures were brought in on a temporary basis in 2014.
Now the Government has made them permanent thousands of couples across the country will be able improve their existing home if they plan to have more children instead of being forced to find somewhere bigger.